Christmas Time in Beautiful Victoria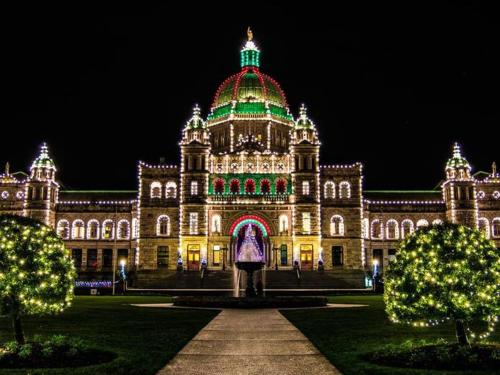 Victoria's holiday spirit is unlike any other! Come experience the magic of the season, whether with friends, family, or that special someone, there are activities here for everyone! See below for our top recommendations during this fantastically festive time of year, and be sure to book a room at our Inner Harbour Hotel, as you won't want to miss out!
Festival of Trees
Festival of Trees
November 15 to January 2
Bay Centre Mall
Vote by Donation
The Victoria Festival of Trees, held exclusively at The Bay Centre this year, has become a cherished holiday tradition and the unofficial kick-off to the holiday season in the city. Join us for the 26th anniversary event, vote for your favourite tree, and support kids from your community who need the support and care only BC Children's Hospital can provide.
9th Annual Gingerbread Showcase
9th Annual Gingerbread Showcase
Parkside Hotel
November 18 - January 2
Free Admission

Feast your eyes on creative inspirations fashioned from gingerbread and other edible components. More than just houses, these are detailed sculptures and unique works of art crafted by professional and amateur chefs. This year's theme is "Celebrating Canada". Vote for your favorite with your donation to Habitat for Humanity Victoria.
29th Annual Out of Hand Fair - The Victoria Conference Centre
29th Annual Out of Hand Fair
November 24 from 10am to 9pm / November 25 from 10am to 6pm / November 26, 10am-4:30pm
$9 Admission Fee (or $10 weekend pass)
This year marks the 29th Anniversary for the Out of Hand Artisan Fair. Get ready to celebrate in style as we bring together the highest quality artisan goods from across Canada. This is Victoria's premier showcase for Artisan Food, Designer Fashion, Contemporary Art and Craft Distilleries & Wines.
Island Farms Presents Santa's Light Parade
Island Farms Presents Santa's Light Parade
November 25
Inner Harbour
Starts at 4:45pm
Free Admission, donations for Mustard Seed Food Bank encouraged!
Begin your Christmas Season in Victoria with the magical Island Farms Santa's Light Parade! Floats and bands, entertainment and lots of fun for the entire family!
Annual Sidney Nativity Exhibit
Annual Sidney Nativity Exhibit
November 26 - December 4 from 2pm-9pm
The Church of Jesus Christ Latter Day Saints
Free Admission

Come and visit this community exhibit featuring the Christmas Nativity story. Ceramics, art, needlework and crafts depict the birth of Christ through the representation of traditional and non-traditional displays from many countries; Israel, Germany, Norway, Mexico, Japan, France, Italy, Africa, USA and Canada. A large collection of local and international creches, displaying over 800 scenes.
Whether you believe or not, this artistic showcase, depicting one theme, is amazing.
Butchart Gardens Magic of Christmas
Butchart Gardens Magic of Christmas
December 1 to January 6
Butchart Gardens
Adult Admission $27 / Youth $13.50 / Child $3.00
Christmas lights, holiday wreaths, carolers, ice skating, festive dining—it's an exciting time at The Gardens. In fact, there's so much happening we refer to it as the Magic of Christmas season. Enjoy the traditions of the season with our Twelve Days of Christmas displays placed throughout the gardens. Sing the song as you walk along!
Annual Truck Light Parade
Annual Truck Light Parade
December 2
Starts at 5:45pm from Ogden Point to Western Speedway at 8:30pm
The 19th Annual IEOA Truck Light Convoy and Food Drive will take place on Saturday December 2 and will be the kick off to this holiday season! This family friendly event brings 80 decorated trucks showcasing their festive spirit along a 35km route from Ogden Point to Western Speedway! Those wanting to give back and donate non perishable food can drop off donations at designated collection spots along the route the night of the event.
37th Annual Dickens Holiday Fair
37th Annual Dickens Holiday Fair
James Bay Community
December 2 from 10am to 4:30pm
$2 Admission Fee
The fair will feature two large rooms with over 70 local artisans; a café and a children's play area. In addition to visiting the artisans' stalls, visitors will have the opportunity to relax in the café and enjoy delicious prepared food and beverages. Customers can also enter our free draw.