Canada Day in the Capital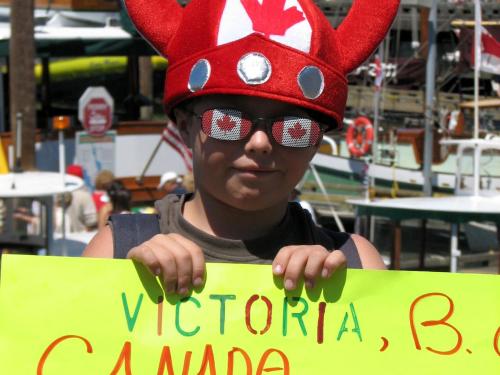 July 1, 2019
Canada Day is one of the biggest celebrations in Victoria. There will be fireworks all over town including Butchart Gardens (10:15pm), Sidney Fireworks Extravaganza (10:15 pm) and Victoria Harbour Cats fireworks (6:35pm) all on June 30th. And then of course on July 1st Sooke Flats fireworks will begin at 10pm and the iconic Inner Harbour Fireworks will start at 10:20pm.
Besides the fireworks in the evening, there will be celebrations and events going on all day at the Legislature buildings as well as many other locations in Victoria.
At the main stage at legislature lawns, celebration will begin at 10:30am with the pick-up of t-shirts for the living flag. The kid zone will be open from 10:30 am to 5:30 pm with face painting, bouncy castles and more. After the Indigenous Blessing at 3pm, there will be many performances including live music, dancing and poetry.
The Royal BC Museum will be hosting the Penny Carnival July 1st- July 3rd. It's a great way to immerse oneself into the historic background of Victoria. There will be many fun activities such as the beanbag toss and egg-and-spoon races.
Fort Rodd Hill and Fisgard Lighthouse is also hosting a day of fun activities including live music. The events are hosted 10am – 5pm. There will be food and snacks at the concession but be sure to leave some room for a huge piece of Canada's birthday cake served for free!
Happy Canada Day and enjoy Victoria to its fullest this weekend!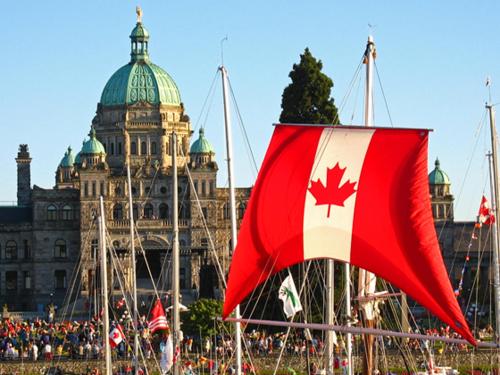 Main Stage Line-Up
Main Stage performances on the iconic Legislature Lawns will feature an array of local and noteworthy performances. Headlining the Main Stage will be Victoria's very own Carmanah, who have had a successful year. Their hit single "Roots" reached No. 1 on CBC music, and they recently opened for KD Lang and completed a cross-country tour. Carmanah's presence is an ode to where they have come from, as well as where they are going.
Performing for the first time in Victoria will be singer Olivier Couture. With a childhood steeped in music, he has performed hundreds of shows in venues ranging from intimate to stadium-size in Quebec. Couture is a multi-faceted artist whose influences are drawn from many different eras of pop music.
French programming on the Canada Day Victoria Main Stage is made possible thanks to the support of the Canada-British Columbia Official Languages Agreement on French-Language Services.The City of Victoria acknowledges the financial support received from the Quebec Secretariat for Canadian Relations under the Canadian Francophone Financial Support Programs.
An exciting mix of local and multicultural acts will join the Main Stage showcase, including Band of Rascals, a Victoria-based, hard-hitting rock band with hints of vintage southern blues and soaring vocals; Batuque Axé, a multi-piece Brazilian band with captivating performances of traditional Brazilian dances and the Afro-Brazilian martial-art Capoeira; Paint the Town Red, a local Indigenous hip-hop group made up of artists YellowWolf and Barndawg; vocal artist Addie Elliott; and DJ Goadman of the One's and Two's.
Rounding out the line-up will be the Lekwungen Dancers; Wong Sheung Kung-Fu Club's traditional Lion Dance; Uminari Taiko, the high-energy Japanese Taiko drumming ensemble; Victoria's Youth Poet Laureate Agartu Ali; and the Sooke Community Choir.
Start planning your summer visit to our beautiful and scenic city for this unforgettable Canada Day at Victoria's Inner Harbour!

Call today or book online to take advantage of the best available rates at our Victoria, BC Inner Harbour hotel!