Blog
Back
Afternoon Tea - Victoria Style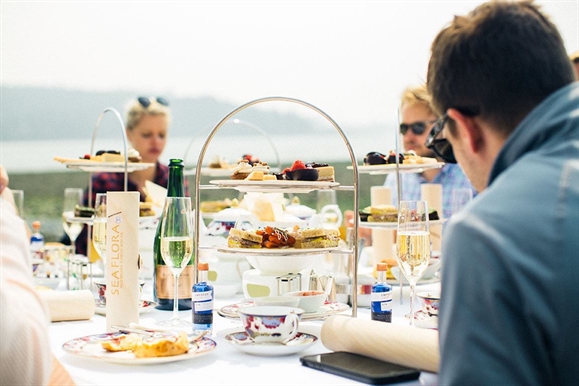 Tea culture has been engrained in the history of Victoria since the first wave of European settlers arrived here. When the British immigrated to Victoria, they brought the practice of Afternoon Tea with them and it has been an honored tradition ever since.
Today, Afternoon Tea is as revered as it has ever been, but in true Victoria style, this traditional affair has been reinvented with a distinct West Coast, contemporary eco flair: think honey produced in local rooftop apiaries, seaweed-infused teas and Asian-influenced menus. Rest assured though, Afternoon Tea in the more traditional British style is still alive and well at many of the city's tearooms.
Fairmont Empress (Inner Harbour):
A time honored tradition for over a century, the world renowned tea lobby of the Fairmont Empress has served England's most beloved ritual and Victoria's grandest tradition of Afternoon Tea to famed royalty, celebrities and dignitaries alike. Surrounded by rich chintz fabrics, antiqued tapestries and rugs, elegant wing back chairs, vintage furnishings and hand-carved tables, the picturesque backdrop of the Inner Harbour provides the quintessential Victoria experience to all Afternoon Tea goers.
Murchie's (Downtown):
Using only the finest quality loose teas direct from some of the world's premier gardens, John Murchie's tradition of quality and distinction continues to this day. From his unique blends of black and green teas of the 1800's to today's more modern blends, Murchie's offer the finest tea blends along with gourmet food and beverages made on site daily.
Butchart Gardens (Brentwood):
Step into the Dining Room restaurant located in the former residence of the Butcharts and enjoy the English tradition of Afternoon Tea, during the warmer weather, or High Tea with its hot delicacies during the cooler months.
Abkhazi Gardens (Fairfield):
The Teahouse at Abkhazi Garden offers four-star guest service and exceptional food in a beautiful setting, giving guests an Afternoon Tea memory to cherish. Seasonal menus showcase regional or Abkhazi Garden-grown produce, complementing the garden's appearance when it is in bloom.
White Heather Tea Room (Oak Bay):
At the White Heather, they are proud to provide an authentic afternoon tea experience which is sure to please.
All of the food (even the jams and Devon cream) is prepared in-house and daily baking ensures freshness. Afternoon teas, especially the best-selling "Big Muckle Giant Tea for Two," offer a delicious selection of scones, tea sandwiches and other savoury treats as well as a selection of mouth-watering sweets.
The tea plates are artistically arranged and presented in an intimate white-linen setting.
These are the best of all Afternoon Tea offerings in Victoria. Don't miss out on this experience .. call today or book online to take advantage of the best available rates at our Victoria, BC Inner Harbour hotel!
Back
Recent Post
Victoria is fast becoming known for its unique downtown shopping experience. There are a myriad of exceptional shops, boutiques and speciality bakeries, all of which are in easy access from our hotel in Victoria, BC.
We see a fair amount of personal items left behind by our guests over the course of each year, but nothing quite touched our hearts like this most recent story.
Prev Post
Next Post