Blog
Back
Vacation in Top Floor Luxury
Luxurious Penthouse Suites
Look no further for the best in luxury on your next vacation. Consider one of our top floor Penthouse Suites and enjoy views of the Inner Harbour and James Bay neighborhood from the rooftop wraparound balcony! Each of our two Penthouse Suites offer a full size kitchen, living room, and dining area. Also included in both Penthouses is a large walk-in rain shower with body spray jets; a lovely way to end the day after exploring our beautiful city! You can then cuddle up in the living room and relax in front of the fireplace, or on the balcony to watch the sunset over the Sooke Hills.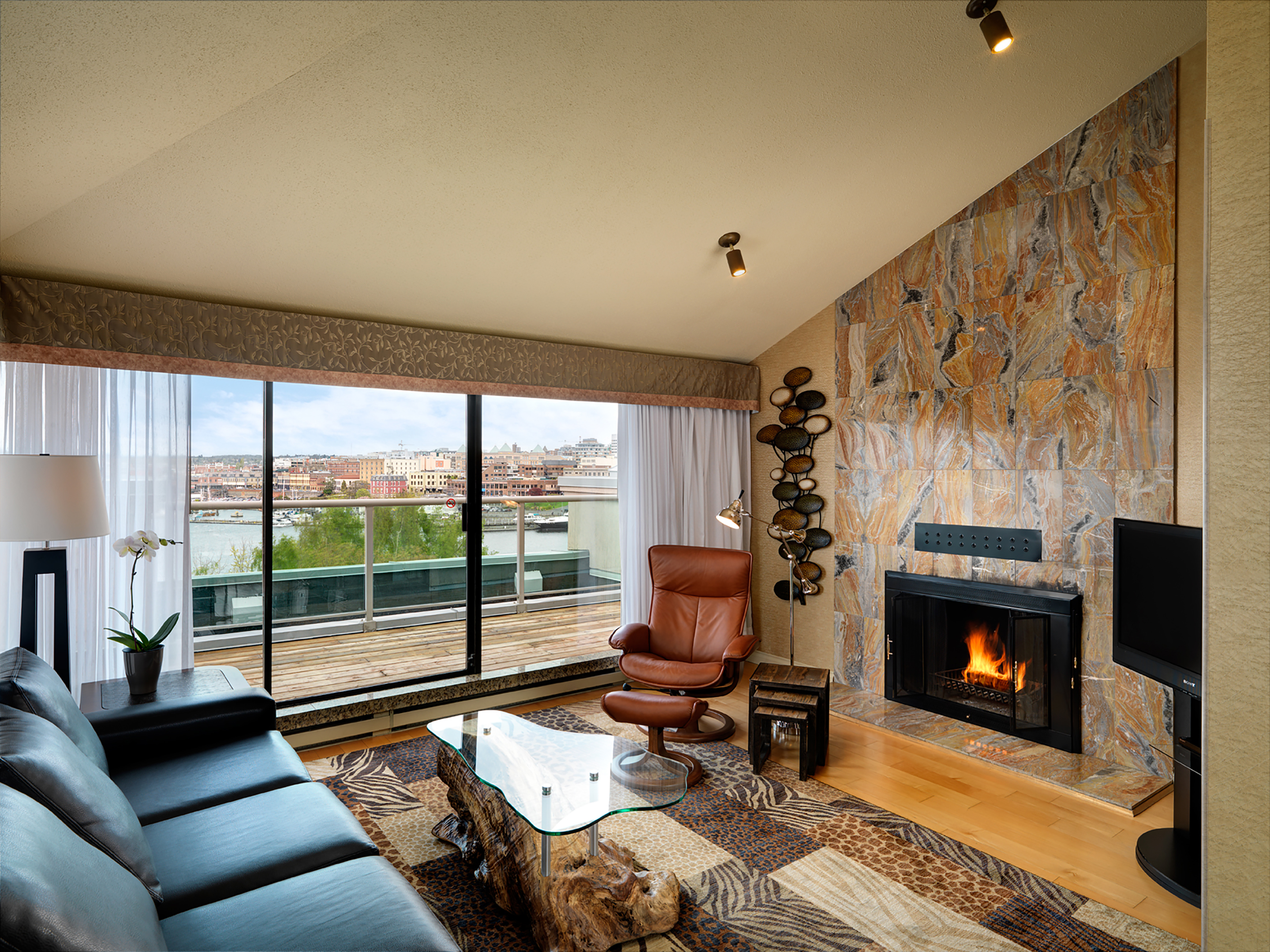 One Bedroom Penthouse Suite
The One Bedroom Penthouse is a great option for couples of small families. Furnished with a King size bed in bedroom and a Queen-size hideabed in the living room, this suite can sleep up to a total of 5 guests (with the addition of a rollaway bed).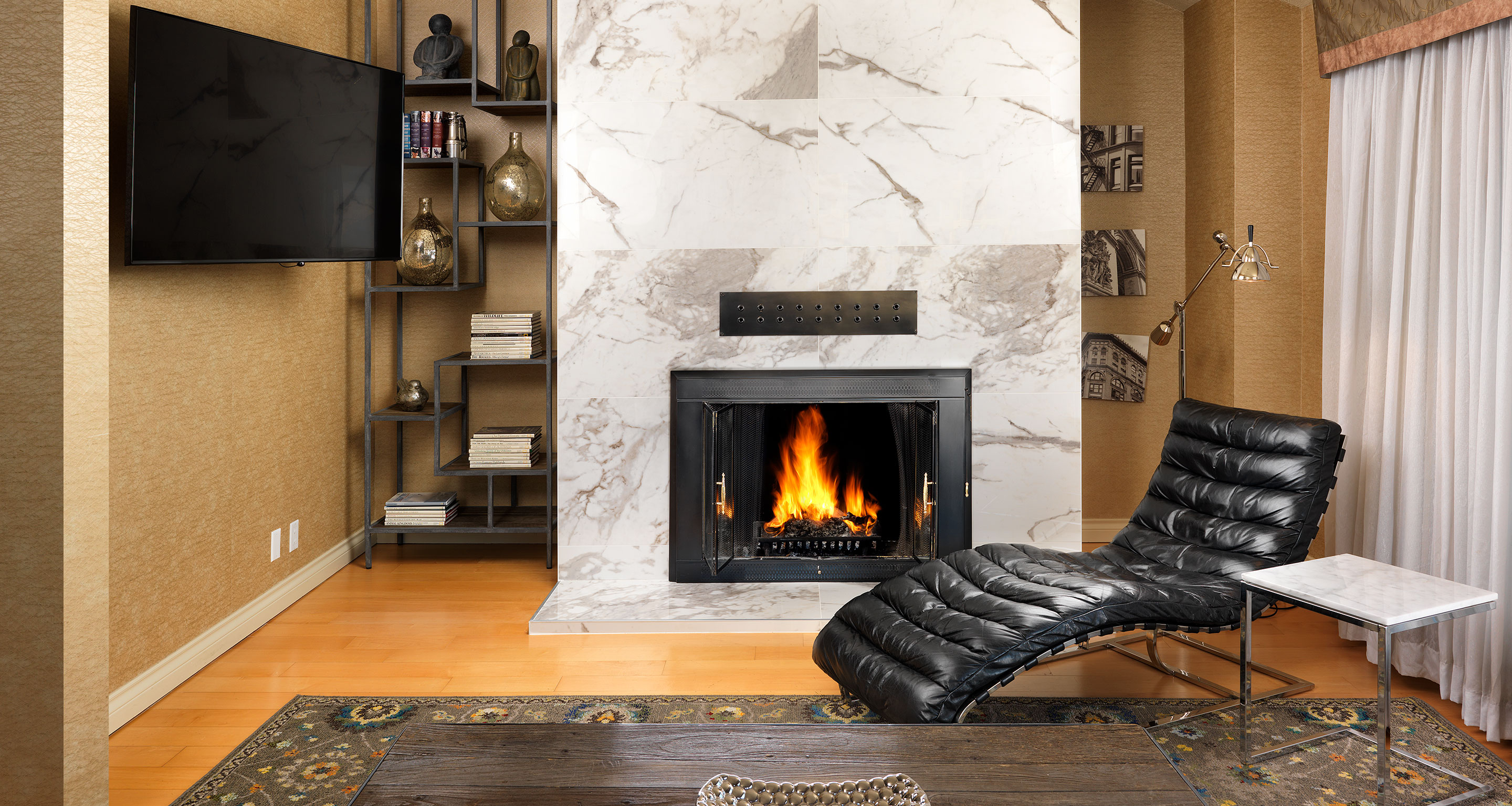 Two Bedroom Penthouse Suite
The Two Bedroom Penthouse is a perfect option for larger families, groups, or two couples travelling together! This suite offers a King Bed in the master bedroom, with an en-suite bathroom. The second bedroom offers a Queen Bed and there is a second full bathroom in the suite. This suite can sleep up to a total of 7 guests(with the addition of a rollaway bed).
What Our Guests have to Say
"Be sure to inquire if either of the Penthouses are available! If you are traveling with a group that needs at least 2 rooms - you will be amazed at what your money buys at the Penthouse here. The Decor is gorgeous and the wrap around deck offers vistas of the harbor, ferry boats, and sea planes -as well as The Princess (Empress) and Parliament."
"The views from the penthouse were the best you could get of the inner harbour area. Just incredible."
"We ended up at the last minute upgrading to the penthouse on the top floor - a beautiful apartment type facility up there, with spectacular views - tremendous! Highly recommend."
"The views from the Penthouse (and the size of the wrap around deck) were Spectacular!!!! The artwork in the room was also quite impressive. Such a fantastic, comfortable stay. We would highly recommend this hotel to anyone."
"The place was quite large with a HUGE wraparound deck with stunning views of the inner harbour, to Washington State and beyond. There was just a small park, small road and ferry parking lot between us and the water, so we had a GORGEOUS view from 1 BR, our living room with real fireplace (and store-bought fake log to burn) and large patio table outside. The other bedroom looked more to ocean toward cruise ship docks, also with nice view.
Marble floor, trendy lights, appealing bath fixtures, softer comfy beds and firmer pull-out sofa, entire wall of granite surrounding fireplace, fully equipped kitchen, comfy outdoor patio table all helped make for an unforgettable experience."
Back
Recent Post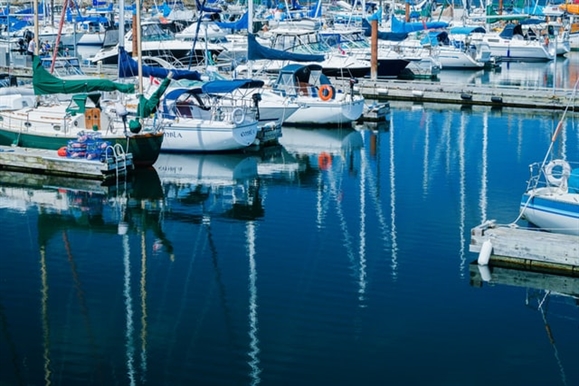 Fishing is a true West Coast activity that combines sightseeing, wildlife spotting, adventure, sport, and maybe even a fresh meal, all in one special experience! Our spectacular coastline is world renowned for its diversity and natural beauty. The large variety of species available makes for some of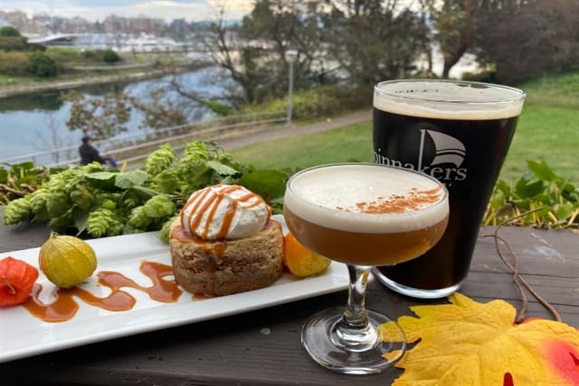 Proudly the province's Craft Beer Capital and home to Canada's first brewpub, Victoria's variety of unique producers are famous for locally made beers.
Prev Post
Next Post