Blog
Back
4 Places to Find Cherry Blossom Trees in Victoria
Image by: AJ
Cherry blossom season has arrived in Victoria once again. During the spring months, the city comes alive thanks to these baby pink-hued blooms. Not only are they beautiful to look at, but they're also an excellent photo opportunity. For these reasons, we've rounded up a few of our favourite places to see cherry blossom trees in Victoria. Check them out below!
Beacon Hill Park
Beacon Hill Park is one of the most popular parks in the city, and for good reason. Come spring, this picturesque park is crawling with stunning cherry blossom trees, all of which are in bloom. Grab a book or a picnic basket and head over to Beacon Hill for a sunny afternoon beneath the blossoms.
Government House
As a National Historic Site, Government House is a must-visit for both tourists and locals alike. And we have to recommend visiting this historic attraction during spring. That's because Government House sits on over 36 acres of land and includes several beautiful gardens, many of which feature cherry blossom trees. Government House is located in the Rockland neighbourhood of Victoria, roughly 20 minutes by foot from downtown.
Belleville Street at the Inner Harbour
Walking to Victoria's Inner Harbour is a surefire bet when it comes to spotting cherry blossom trees. Belleville Street has a beautiful grove of them, making it one of the best places to find the springtime trees.
Fisgard Street
Fisgard Street runs directly through Chinatown, which makes it a convenient location for some cherry blossom tree spotting. Get some shopping done, grab a coffee, and take in the cherry blossom-lined Fisgard Street in spring.
If you're visiting Victoria in April or May, then do not miss out on cherry blossom season. And if you need a place to stay during your visit, we'd love to host you at the Best Western Victoria Inner Harbour. We combine luxe amenities and comfortable accommodation with an unbeatable location in downtown Victoria (we also happen to be near several cherry blossom trees!).
Back
Recent Post
Spring is here, which means Victoria's best farmers' markets have officially reopened!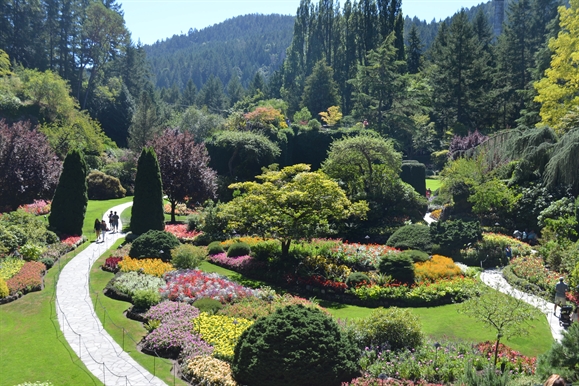 Get outside this spring and take a stroll through one of the most popular attractions in Victoria, Butchart Gardens.
Prev Post
Next Post